Managing Millennials: Tips from the Experts
January 28, 2016
Millennials, also known as Generation Y, are stepping up to the career plate and by 2020 will comprise half of the workforce. The perception of this generation is one filled with eye-rolls from Baby Boomers and Gen Xers. Many view Millennials as a "lazy," "entitled" and a technology obsessed group who think showing up for work is an achievement worth rewarding. So how can you successfully manage this wild pack? A few tips from the experts will get you started.
Bridge the Gap
The first step is to accept the fact that generation gaps and differences are nothing new. The second step is to understand both the negative and positive differences of Millennials and bridge the gap. In a November 2015 article in the Journal of Financial Services Professionals, author Sharon A DeVaney, PhD notes that while Millennials are "impatient" and "entitled," but they are also "optimistic," "civic minded" and "team oriented." Millennials want to feel satisfied and happy in their jobs and also want to make sure they are growing in their careers; and are more apt to change jobs if they feel that those needs cannot be met. The conclusion according to DeVaney: "employers and managers need to provide meaningful work, allow the Millennials to provide input, and help the Millennial feel that he or she is a good fit on a good team."
Tune in with Technology
Millennials are the first generation to have been raised with enhanced digital technologies and are also the first generation of "digital natives" (a term coined by Marc Prensky), meaning they do not view technology as a "learned" skill, but rather as an integrated aspect of their life.2 In the book, When Millennials Take Over, Jamie Notter and Maddie Grant note "in order for an organization to have a digital mind-set, it must leverage everything that has been made possible by today's digital world." According to the authors, the three best things an organization can do to become digital are:
Invest smartly in technology
Create a space for experimentation
Innovate human resource practices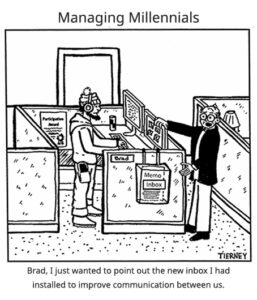 Understand their Uniqueness
What sets Millennials apart is their uniqueness. Ignoring these traits will undoubtedly make it more difficult to manage your millennial employees. The goal? Understand what they are and how they developed. Lee Caraher, author of Millennials and Management, The Essential Guide to Making it Work at Work, establishes that many of these traits are a result of upbringing.
Millennials are not entitled; rather, they have been taught to expect things to happen immediately.
Millennials have always been rewarded for simply showing up; therefore they do not expect the workplace to be any different.
Millennials may have different ideas about what hard work looks like, but that does not mean they do not work hard.
If Millennials are provided with specifics and context, their output can be significant.
Millennials do not necessarily try to be less casual or dress inappropriately for the workplace; they simply have not been taught how to dress for that environment and do not understand older workers' mind-set regarding work attire.
Most Millennials have seen their Boomer and Gen X predecessors sacrifice work-life balance; as a result they want to strive for it themselves and want to do so immediately.
Managing Millennials, like managing any employee is a challenge. When you have access to experts and a variety of content via e-books, journals, book summaries and videos you have the information you need to lead. Learn more from these featured experts and others with Leadership & Management Learning Center™.
Citations:
Caraher, L. (n.d.). Millennials & management: The essential guide to making it work at work.
Fisher, D. (2012). Ready for the Digital Natives? ABA Banking Journal, 104(12), 29-31.
Additional Sources:
DeVaney, S. A. (2015). Understanding the Millennial Generation. Journal of Financial Service Professionals, 69(6), 11-14.
Notter, Jamie; Grant, Maddie. When Millennials Take Over , 7/23/2015, p1-8, 8p
The information used to write this article was obtained by researching the topic in Leadership & Management Learning Center.
The information used to write this article was obtained by researching the topic in Leadership & Management Learning Center.
Interested to see what Accel5 has to offer?