The Culture Hacker's Guide to the Employee Experience (EX) Strategy

Shane Green recently hosted an Accel5® webinar highlighting the strategic considerations every owner, executive and manager needs to create the type of culture that will deliver great customer experiences and a healthy bottom line.
In an Accel5 webinar hosted by Shane Green, the leadership consultant highlighted the strategic considerations that every owner, executive and manager needs to understand to create a culture that will deliver great customer experiences and a healthy bottom line. Keep reading to learn more about the webinar's key points and some additional inspiration for enhancing your company's culture and to help provide a better employee experience (EX).
---
This year, organizations will spend billions of dollars on their employee experience (EX). Still, many won't consider a comprehensive strategy to ensure the best investment of those dollars in their people. For the past ten years, we have been advising organizations on EX strategies and how to build a positive, performance-driven culture that exceeds expectations, attracts, engages and retains the best talent, and delivers the best customer experiences. We use this approach for each company to ensure their investments are best spent.
We begin with the end in mind, or the outcome you want from your investment in your employee experience — a positive and high-performing culture that delivers your brand promise and purpose.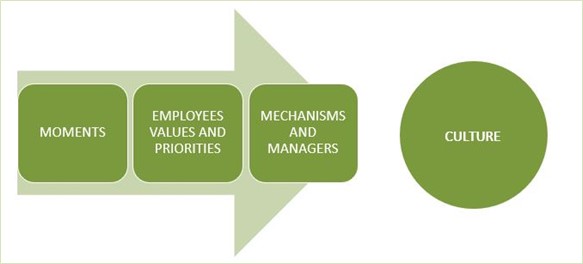 If the goal of your customer experience (CX) efforts is to build a great brand, then the purpose of your EX investment and focus is to create a great culture. Workplace culture is the collective attitudes and feelings a team of employees has about the company they work for, the work they do and whom they do it for. How employees feel about what they do and for whom manifests itself in their behavior, effort and the level of care they deliver in their work and with customers. Ask yourself — what type of culture do you want, or how do you want employees to feel about coming to work at your organization every day?
The first step to developing your strategy is understanding the key moments in your employee experience. Psychologist Daniel Kahneman, who has provided tremendous insights into how to deliver great customer experiences, emphasized the importance of these moments when creating memories and designing experiences. His most influential work around peak-end theory and how humans experience the world around them is necessary reading for every business delivering great customer and employee experiences. His work suggests that humans relive experiences as snapshots, not videos, so when we work on CX or EX strategies, we first need to understand the key moments that will define the experience.
Organizations must realize the key moments in the employee experience and focus on elevating meaning and emotional connection in those moments. We have been studying employee moments for the past 10 years and have identified more than 50 moments fundamental to developing memories and defining the overall employee experience. Moments, such as the interview arrival, the employee's first day at work, a performance review, anniversary date and birthday, how a manager reacts when they do something well or make a mistake, and whether someone acknowledges their contribution at the end of the day all determine how the employee feels about that day, what they do, whom they do it for, and their experience at work.
Once you understand that the employee experience is defined by key moments rather than every moment, you need to consider what employees value and want from their work experience in those moments. Based on our work over the past few years and recent research conducted around the world, you can identify the important employee priorities to build into your EX strategy. Employees are looking for organizations that do the following:
Offers meaning and purpose in their work
Provides a positive and inclusive work environment
Creates opportunities to grow and develop regardless of how long they stay
Prioritizes health and well-being
Is transparent about goals and plans
Offers flexibility around where and when work gets done
Develops strong leaders
Keep employees' wants and priorities in mind to ensure the various mechanisms, processes and managers deliver each moment correctly and with the right amount of meaning and emotional connection. These moments will create a positive memory for each employee and greater loyalty to the business.
Mechanisms are your next consideration. Our team has been refreshing and building culture mechanisms for organizations for the past 10 years, and I wrote about many of these mechanisms in my book, Culture Hacker (Wiley, 2017). It is important to note that some mechanisms like recruitment, onboarding, coaching conversations, communication and engagement incorporate multiple moments, so you need to invest time and resources to ensure each has the right amount of emotional meaning.
Here is an example of how we have applied some of the most important employees' wants to an effective onboarding process (the first 30 days on the job). At least a dozen critical moments in an employee's first 30 days at work determine whether they want to stay or will keep looking for another job. Understand that half of all employees who leave their job this year will do so within 90 days of joining a company.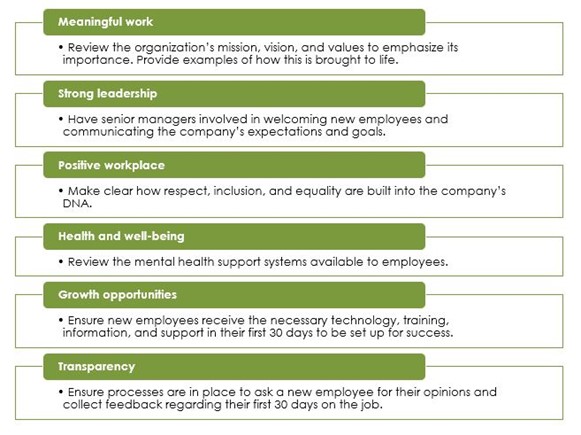 The final consideration is managers. Leadership is a manager's ability to inspire their employees' hearts and minds to want to do what they want them to do, do something they may not want to do and perform their best. Employees want strong leadership, so you need to identify what this looks like in your organization. We have conducted numerous employee surveys, and we keep seeing the same ideas identified regarding what strong leadership looks like. A strong manager is someone who shares their expertise and experience, provides feedback on what someone does well and what they could do better, leads by example, recognizes their best people, holds accountable those who do not perform or does not want to be there, effectively communicates, and — above all else — cares about their people and team.
We believe a manager's attitude and actions with their team affect everything about the employee experience and state of your culture. It is why an investment in developing leadership habits and skills should be one of the most important investments you make this year if you are serious about your employees, culture, and your business' success. Remember, leaders are not born — they need guidance and coaching to be made.
So, there you have it — our overview of how you can develop an EX strategy that will create the type of culture your employees want and your customers need them to have. Remember, culture is no longer an HR thing nor optional. It is a business thing, and it is everything in today's world.
---
Shane Green is a business owner and consultant who works with Startups and Fortune 500 leaders on customer experience and organizational culture. A world-renowned speaker and television personality, he's the author of Culture Hacker.