COVID-19: A Year in Review with EBSCO Information Services Talent Director Emily Hayden

EBSCO's Emily Hayden outlines common challenges experienced by employees in the past year while working remotely, and tips on how to tackle these issues
By Emily Hayden | April 6, 2021
As EBSCO Information Services (and most of the corporate world) recently marked one year of working remotely, we thought there was no better time to explore employee successes and pain points resulting from this unique situation.
We sat down (virtually) with EBSCO Information Services Talent Director Emily Hayden to discuss common issues experienced by employees working remotely and her advice for tackling them. Whether you're dealing with a distracting home situation, managing stress, building a virtual company culture, or still trying to get a handle on working remotely, keep reading to learn more.
March 12th marked the one-year anniversary of EBSCO's work from home policy. EBSCO Information Services is a global company with offices in more than 30 locations. How has this experience affected local teams and their working dynamics?
In my Learning & Development role, I have the privilege of working with EBSCO employees across the globe. Before the pandemic, I traveled to cities including London, Berlin, Shanghai, Melbourne and Bogota to train local teams. With COVID-19, these sessions are now online. We're fortunate that EBSCO had a strong technical infrastructure before the pandemic, so we had the tools (laptops, software, Microsoft® Teams, instant messaging, soft phones) to successfully transition to fully remote work.
But it's hard to replicate the camaraderie of time together in the office. Everyone working at EBSCO has had to adjust. I recently heard from a manager in Mexico City who, like many of us, has enjoyed extra time with family. However, he shared that his team is struggling to remain creative and innovative while working remotely. I've also heard from our colleagues in India who, like many of us, experience challenges keeping in touch with customers without the benefit of in-person meetings and events.
To maintain our corporate culture, hold onto our connections, and create a continued sense of community, there are several things we can do. Most importantly, we need to demonstrate trust. We need to be authentic and present with our co-workers and our customers. Empathy is so important right now. Everyone is coping with the stresses of this pandemic. Work is suddenly intertwined with family, health, emotional needs — now, more than ever. We need to ask each other, "How are you? How's your family? How are you doing?" REALLY ask these questions and pay attention to the answers. Whatever you can do to connect on a personal level is so helpful.
Some teams continue to hold regular "social time" via online chat platforms, whether it's a Friday happy hour or a morning coffee time. Our HR team has a "water cooler" chat site where we share personal pictures and updates, such as how we celebrated National Tortilla Chip Day. (It was on February 24th in case you're interested) Since Australia has been able to closely control infections, one of our teams there recently met for pizza and putt-putt golf. Man, I was so envious. Bottom line, it is critical that we create time and opportunity for connection.
One of the most challenging aspects of working from home during a global pandemic is that other family members are working or learning in the home. Each employee has a unique living situation (e.g., caring for parents at home, children who are remote learning). What is your advice for employees who are having trouble juggling and staying focused?
We've all had to wade through challenges this last year. I think it's critical to be honest with your manager, your team and YOURSELF about responsibilities, schedules and expectations. Last summer, I moved across the country to care for my elderly father. I suddenly found myself on a very defined schedule (including meals I was cooking), not to mention a variety of new chores, errands and doctor's appointments. I clarified priorities with my boss and with my direct reports, identifying priorities that were critical and or nice-to-have. I started setting aside time each Sunday evening to plan my week. What are the four or five most important things that need to get addressed this week? Who do I need to collaborate with to accomplish these goals? I now time-box the needed hours for these priority tasks into my week's calendar.
This approach works well for me since I've been working remotely and positions me to start each week with clear direction and focus. I also share my calendar with Dad each morning, writing on a whiteboard the times when I'm going to be in meetings. This helps to avoid interruptions and sets clear expectations at the start of especially hectic days.
Since the beginning of the pandemic, we've seen interactions go digital. Trainings, conferences, meetings, employee onboarding and hiring are all virtual. How does this affect the dynamics of working relationships?
Effective collaboration, whether virtual or face-to-face, requires that people actually know something about one another. They also need healthy communication which includes sharing knowledge, clarifying expectations and generating new ideas. Communication is more challenging when we're apart. You don't have those same "drive by" opportunities like the chat in the parking lot or the quick connection in the cafeteria. Collaboration is more of a production when working remote.
I encourage people to think about the meetings they facilitate. One-on-ones and team meetings are more important than ever. Try not to skip these. But "meeting fatigue" is very real, so we need to evaluate the number of meetings we're scheduling, as well as consider how long these sessions need to be. Can your meetings be more succinct? More engaging? Clarify agendas ahead of time. Encourage the use of tools like polls and emojis (like thumbs up and thumbs down). Strive for transparency in your messages and use active listening to make sure you're hearing and sharing appropriate information.
We touched on employees with unique situations doing their best to work from home. What about employees who don't have as many distractions yet are having trouble making the transition from an office/cubicle to a home office? What is your advice for those trying to separate work from home and create a work-life balance when their office is (sometimes literally) in the bedroom?
Yes, I can relate to the bedroom office. It's certainly a short commute each morning. I try to honor and replicate the same schedule I had when I was in the office. Sometimes I would go in early, sometimes I would stay late, depending on my workload or deliverable requirements. I try to take the same approach at home. It may not be realistic to shut down right at 5:00 p.m., but when would I have been walking out of the office? I also have a lamp on my workspace at home. I purposely turn off the light to signal that work time is over. Even if I've left my laptop turned on, the dark corner discourages me from diving back in.
It's important to maintain human connection and "face time" for employees who are isolated in their homes. What is your advice for staying in touch with people on your teams, or even those you may work with but do not speak with often?
Simon Sinek, famed author and inspirational speaker, is famous for his statement, "Culture = Values + Behavior." It's not enough to SAY what you value. Your actions must reflect and reinforce those values.
Talent development is my job, for example, but it's also one of EBSCO's core competencies. Our employees commit to personal development as well as the professional development of one another. I encourage employees to set a quarterly development objective. Pursuing that goal often leads to connection — an informational interview, an email exchange, attendance at an online class or a lunch & learn program. It's a great way to use that time you saved on your commute.
I also have a recurring 30-minute block on my calendar each week for reaching out. When this pops up on my schedule, I identify a co-worker I haven't heard from in a while. I take that time to give them a call or send them a note. "How are you? What's going on? I'm working on… I miss bumping into you in the hallway!" This simple exercise helps me to reconnect with many people and further supports the values of our corporate culture.
Life as we know it has changed. The office dynamics and culture have shifted. What is EBSCO doing to maintain a positive company culture moving forward?
Recent research by Glassdoor found that organizations with strong onboarding improve retention by 82 percent and productivity by 70 percent. But this can be especially challenging when your new hire is remote.
To ensure a strong start and introduce new hires to EBSCO's unique culture, we've made several changes to our orientation and onboarding practices since the beginning of the pandemic. Orientation is now virtual via Microsoft Teams. We've created internal SharePoint™ portals for hiring managers and new employees with FAQs, videos and more. We're sending a "welcome package" to new hires with EBSCO swag. All new hires are assigned a "buddy" to serve as a resource and to help them acclimate. We're working with the Gartner Group to survey new hires after their first few months to ensure we're on track with positive onboarding and providing a truly welcoming experience for new team members.
No doubt this past year has been stressful. What are some tips to help remote employees cope with stress?
Honor lunchtime. Step away from the computer for at least 20 minutes. If it helps, block the time on your calendar as a recurring meeting. Get outside for a couple minutes.
I also find that meditation is very helpful I started taking a free class at the start of the pandemic. It's really helped me to stay calm, centered, and collect my thoughts. I now subscribe to a meditation app and take a few minutes each day, sometimes in the morning, sometimes at night. These few minutes a day help me to think more clearly.
Can you offer suggestions for resources to help employees who are working remotely, especially managers?
So many wonderful articles and videos have come out in support of our virtual situation. EBSCO's Accel5® collection of micro-learnings, for example, offers hundreds of leadership tips around all kinds of management issues. I recently watched an Accel5 video with Marshall Goldsmith, world-renowned business educator and coach, reinforcing the increased need for positive feedback, recognition, and celebration. Virtual shout-outs and thank you's are so important. What's your remote version of "cake in the conference room?" Our department asks one team member each week to publicly recognize and appreciate a co-worker who has helped them out. We have a rotating schedule and we share this message at the end of our team meeting. It's quick and the meeting always ends with a smile.
Harvard Business Review also offers relevant articles and tips. I follow them on LinkedIn and subscribe to several of their newsletters. YouTube has been a great source for videos about remote technology, such as how to use polls in Microsoft Teams or even home productivity tips.
—
As COVID-19 continues to impact people and organizations, adapting to the ever-changing working world, coping with new challenges and managing stress is critically important. Our team at Accel5 compiles resources from top business authors, executives, and educators to help you and your organization stay productive, build new skills and provide leadership during these challenging times. These items are accessible to all, regardless of subscription status.
Check out free Accel5 COVID-19 resources
---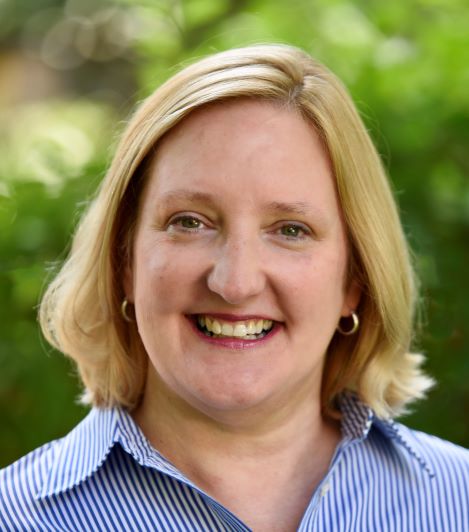 Emily Hayden
EBSCO Information Services Talent Director
Emily is responsible for Learning & Development and Talent Acquisition for EIS and has been with the company for 16 years. She has over 25 years of experience in talent management, training, project management, and process improvement.